A true patron of music, Usha Uthup's life, and work are those of an unsung hero. But looking back at her past and present, 'Didi' as she is fondly called has worked with all efforts and passion to dedicate her life to music. Usha Uthup's story spells out 'role model' in every way.
Born in a traditional Tamil family in Mumbai in 1947, Usha has three sisters and one brother. Usha grew up in a family with immense taste in music and varied musical influences. At the young age of nine, Usha was introduced to popular announcer Ameen Sayani who gave her an opportunity to sing on Ovaltine Music Hour of Radio Ceylon.
At the insistence of her friend, she learned Hindi.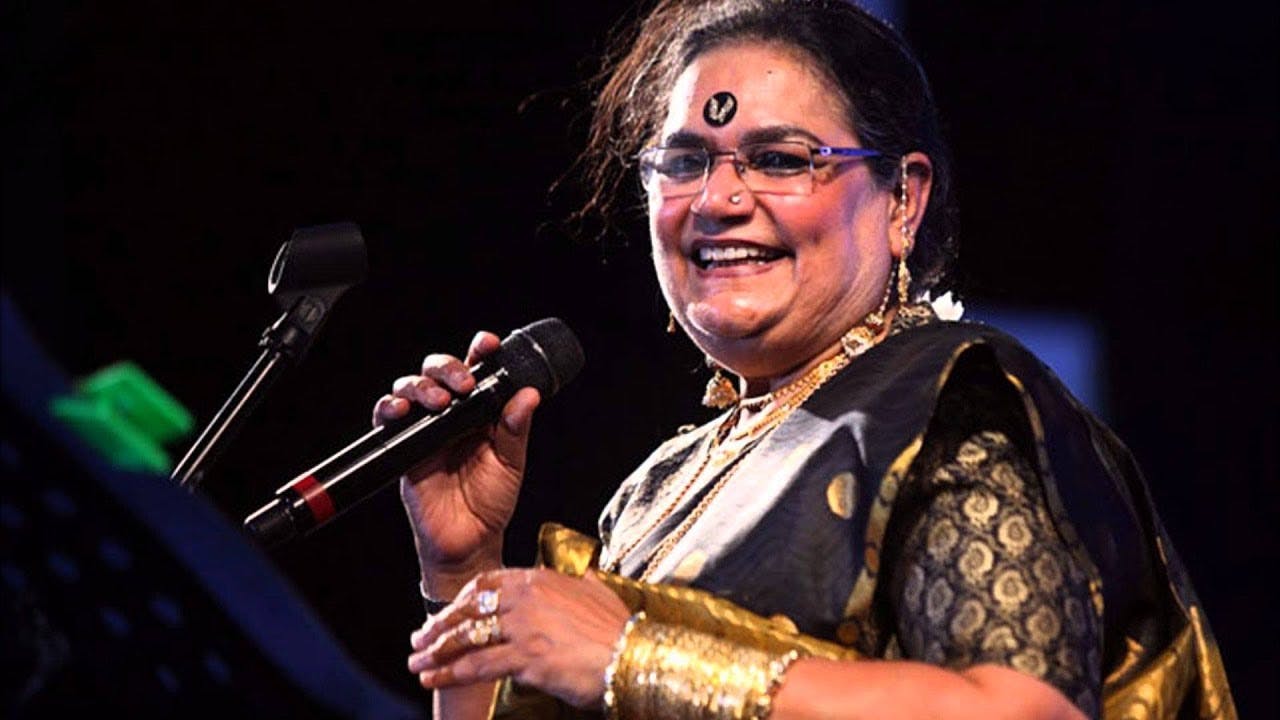 Usha started her career as a club singer at the Nine Gems Night Club in Madras, now Chennai. She achieved tremendous success there and continued singing in nightclubs in Calcutta, Delhi, and Bombay. Even today she is absolutely unapologetic about starting her career in this fashion and instead takes immense pride in the way she started off. At a time when singing in clubs was frowned upon, Usha took it as a stepping stone to success.
With her deep unconventional voice, Usha often lost opportunities that could give her an instant career boost. But she stuck to her stand and her unique voice quality and often sang recreated versions of R.D. Burman and Bappi Lahiri's songs. But she mainly got to sing smaller portions or English versions of songs. She never lost heart or that smile on her face and continued to make the most of the opportunities handed over to her.
At the same time, she never lost on other opportunities. On her visit to Kenya, Usha sang in Swahili for the locals and gained immense popularity in the region. The fact that she learned a new language to adapt to the likes of the people and connect with them through her museum speaks volumes about her personality.
She learned, she adapted and performed across multiple languages including Hindi, Malayalam, Kanada, Konkani, Marathi, Punjabi, Bengali and across different styles. She sang for singles, for stage shows, and for movies. Usha Uthup became the pioneer and icon of Indian Pop Music.
Usha Uthup has always rocked as the powerhouse with a powerful and melodious voice. Making a fashion statement through all the hustle, her oversized round bindi, hair tied in a loose bun with flowers and a Kanjeevaram saree are synonymous to her mention. Interestingly, she made a switch to sneakers fifteen years ago and was one of the first celebrities to pair her saree with sneakers. To liven up her black or white sneakers, she added a bit of quirk by patching Kanjeevaram saree pieces. Next up, she will be producing and promoting the same.
At 71, Ushu Uthup symbolizes energy, passion, devotion, and liveliness as she continues not just to make public appearances but performs at concerts across the world. Now that's a role model who leads by example!