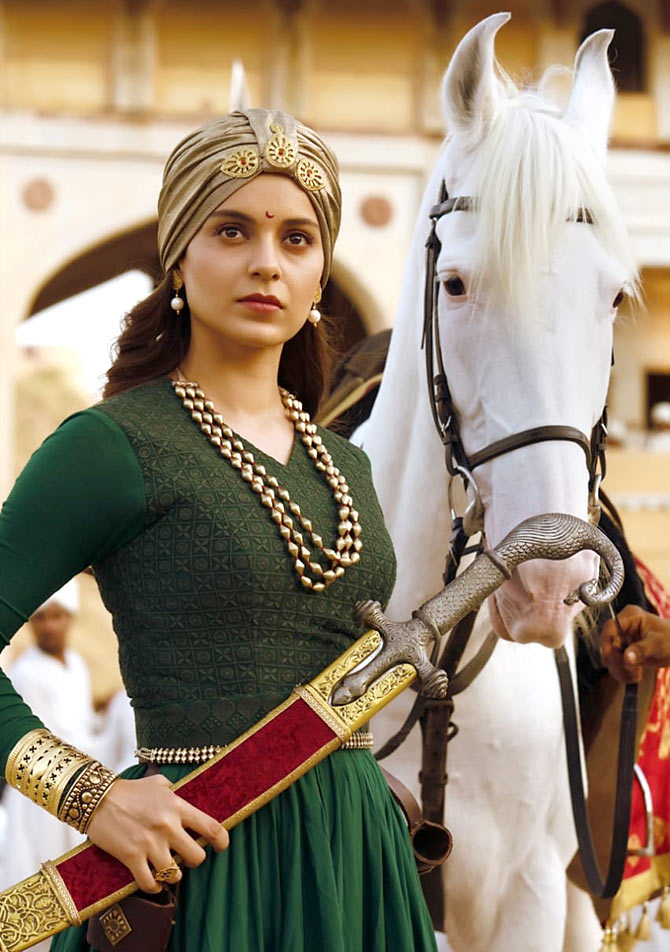 Kangana Ranaut's film is an arrow against cinema's patriarchy, a broadside against the boys.
Manikarnika: The Queen of Jhansi
Directors - Kangana Ranaut, Raja Krishna Jagarlamudi
Cast - Kangana Ranaut, Atul Kulkarni, Jisshu Sengupta, Danny Denzongpa, Suresh Oberoi
It doesn't feel like a coincidence that Kangana Ranaut is called Manu in her new film. The full name of the Queen of Jhansi was Manikarnika Tambe, but the film informs us she was nicknamed Manu. This film conveys that the queen a.k.a. Kangana Ranaut needs no man.
The film sets up a world where the woman wages war, while the men dance and matchmake and Ranaut's character shows the men how its done, fencing expertly while running across the backs of horses and onto that of an elephant.
The film seems as historically accurate as Mel Gibson's Braveheart — which is to say it prizes the valorous myth, and takes 'creative liberties' to tell its story. Directed by Ranaut and Radha Krishna Jagarlamudi, Manikarnika achieves the simplistic ambition of saluting the queen and has a gripping story.
Ranaut is glorious. She wears a dazzling smile early on like a cloak of confidence, and later slices down enemy soldiers with a fury that must surely have injured some extras on the set. She's at her best faux sword fighting with her son, or when — in an undeniably rousing scene — she refuses to have her widowed head tonsured because her kingdom needs a queen to take charge.
Manikarnika's very existence feels like an arrow against cinema's patriarchy. At the end when we hear Amitabh Bachchan read out those famous lines about the Queen of Jhansi, the first credit declares 'Directed By Kangana Ranaut.'
Source: https://www.hindustantimes.com/bollywood/manikarnika-movie-review-kangana-ranaut-is-awesome-the-film-better-than-sanjay-leela-bhansali-s-carnivals/story-gOMYHprOhI3f7OeDbfW62O.html